Portfolio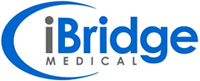 iBridge is developing a remote patient monitoring system to wirelessly manage patients with active implants.

Theracle is developing an implantable drug-device combination therapy for gliomas - one of the most lethal forms of brain cancer.
Rani Therapeutics has developed a novel approach for delivering peptides, proteins and antibodies orally. Considered the "holy grail" of drug delivery, we have demonstrated greater than 50% oral bioavailability.
Neurolink's mission is to commercialize an implantable medical therapy that would effectively treat epilepsy by successfully treating the underlying disease pathology.
Corhythm is developing implantable devices for the treatment of congestive heart failure and atrial fibrillation.
Fe3 is developing a novel approach for the treatment of iron-deficiency anemia.

IntraPace is developing an innovative product platform utilizing gastric stimulation for the treatment of obesity.
Entrack is developing diagnostic and therapeutic devices for Inflammatory Bowel Disease (IBD).
Python is an early stage company developing devices for gastrointestinal surgery.
Spinal Modulation is an early-stage venture creating innovative implantable devices for the management of chronic pain. In June 2013, St. Jude Medical agreed to invest $40 million in Spinal, and gained the right to exclusively distribute the system and potentially acquire the company.

SafeView has developed next-generation imaging technology for Homeland Security applications, with a mm wave radar technology that can be tuned to detect any objects under clothing. This technology is being adopted by airports worldwide in configurations that generate 3-D holographic images of travelers, which reveal images of objects that may be hidden in clothing and boots. Safeview was acquired by L-3 Communications in 2006.

Nfocus is a neurovascular company focused on treating hemorrhagic stroke. Product development programs are aimed at Neurovascular Embolization Covers - a new technology providing rapid treatment of aneurysms and fistulas in the brain. Nfocus was acquired by Covidien in 2013.
ZONARE Medical Systems is a revenue stage company that has developed a disruptive new approach to ultrasound imaging. Zonare was acquired by Mindray in 2013.
Reflow
Reflow created devices designed to "recanalize" or open chronic total occlusions. FHT acquired Reflow in 1998.

Percusurge pioneered the concept of embolic protection during interventional procedures, revolutionizing the field of interventional cardiology by recognizing and solving the problem of distal embolization. Its initial product, the Guardwire™, was designed to capture material dislodged within arteries, and to prevent clots/debris from traveling distally. The company was acquired by Medtronic in 2000.

In the early 90's Vidamed developed a non-surgical therapy designed to deliver low-level, precisely controlled radiofrequency energy directly to the prostrate to diminish obstructing tissue associate with Benign Prostatic Hyperplasia (BPH). The company's technology was based on a number of key patents licensed by the company from Mir. The company was acquired by Medtronic.
Intella Interventional
Intella Interventional developed and marketed novel catheters, balloon technology and guide wires for coronary artery disease. The company was acquired by Goodman Co Ltd. in 1999.

Cardiac Pathways pioneered endocardial mapping and ablation technologies for the treatment of ventricular and atrial arrhythmias. The company was acquired by Boston Scientific.

Physiometrix developed neuro-diagnostic devices including depth of anesthesia devices. The company went public in 1996 and was subsequently acquired by Hospera.
Data Trak
Data Trak developed the "Electronic Real Estate Lock Box," a device widely used today as a secure way of allowing authorized persons access to a property via a personalized code. The system tracks the time of each entrance and exit, with the ability to set expiration dates/times for individual user access codes. Data Trak was acquired in 1989 by Supra Products which was in turn acquired by GE.
Ventritex
Ventritex developed implantable defibrillators and related products for the treatment of ventricular tachycardia and ventricular fibrillation. The company was acquired by St. Jude Medical in 1997.
Intec Systems
Intec Systems pioneered the commercial development of the first Implantable Cardiac Defibrillator (ICD) for treatment of recurrent/sustained ventricular tachycardia or fibrillation. Working alongside Dr. Michael Mirowski's team at Sinai Hospital in Baltimore, the first ICD was implanted in humans in 1980. The device was subsequently granted FDA approval and Intec Systems was acquired in 1985 by Eli Lilly.